Advertising Rates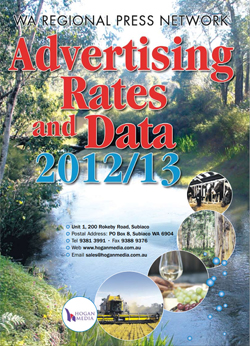 The Bunbury Mail is published each Wednesday and is distributed free to homes and businesses throughout a region which includes Australind and Eaton.

The paper is seen as a leader in the market place and has developed a strong following among readers and advertisers with its blend of general news, community news, sport and features.

The Bunbury Mail takes pride in its award-winning weekly features profiling local identities and sports people. Wedding, social and baby photos also underline the Mail's commitment to being a "people paper".

Other popular weeking features include the Domain and Drive liftouts, an entertainment section with the area's arts, music, theatre and cinema, Home Improvement, fashion, health and gardening.

Bunbury is the biggest regional city in Western Australia and is the major centre in the State's rapidly developing South West.

The city takes in industries such as mixed farming, fishing, horticulture, forestry, mining, mineral refining and power generation.

The Port of Bunbury is one of the State's busiest, being the departure point for raw materials like alumina, vegetable oils, woodchips and mineral sands.

The city's coastal location is makes it a popular destination for visitors from around the state, Australia and the world.